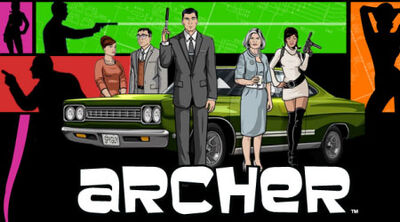 Archer is an 2017 spy-fi action-comedy film directed by Adam Reed.
Plot
Summary
Cast
Ian Somerhalder as Sterling Archer
Zoe Saldana as Lana Kane
Jessica Walters as Malory Archer
Krysten Rytter as Cheryl Tunt
Melissa McCarthy as Pam Poovey
Steve Carell as Cyril Figgis
Andrew Ranells as Ray Gillette
Brett Gelman as Dr. Krieger
Bill Murray as Woodhouse
Ryan Reynolds as Barry Dylan
Jeffrey Tambor as Nikolai Jakov
Emma Stone as Katya Kazanova
Adam DeVine as Brett Bunson Buckley
Zach Galifianakis as Bilbo
Henry Winkler as Ron Cadillac
Trivia
Notes
Ryan Reynolds would wear a blonde wig for the role.
Emma Stone will dye her hair blonde for the role.
Gallery