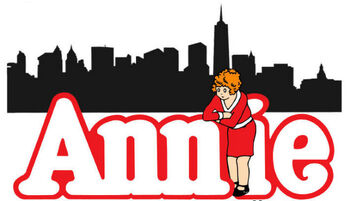 Annie is a American 3D computer-animated musical comedy film based of the Broadway musical of the same name.
Plot
Set during the Great Depression, the film tells the story of Annie, an orphan from New York City who is taken in by America's richest billionaire Oliver Warbucks.
Cast
Hugh Jackman as Oliver "Daddy" Warbucks, a billionaire businessman who opens his home to Annie.
Bella Thorne as Annie, The spunky and optimistic 11 year old orphan who is looking for her birth parents.
Keira Knightley as Grace Farrell, Oliver Warbucks' faithful secretary, who loves Annie from the start.
Allison Janney as Miss Agatha Hannigan, The orphanage matron, disillusioned, she hates children, but is fond of alcoholic beverages.
Paul Giamatti as Daniel "Rooster" Hannigan, an escaped convict and Miss Hannigan's younger brother.
Margot Robbie as Lily St. Regis, Rooster's gold digging girlfriend.
Michael Gambon as Drake, The butler at the Warbucks Mansion.
Joey King as Molly, The youngest orphan (6) who is also Annie's best friend.
Frank Welker as Sandy, An abandoned mixed–breed dog that Annie rescues him, he becomes her faithful companion.
John Goodman as Franklin D. Roosevelt, the President of the United States, he aids Daddy Warbucks in the search for Annie's parents.
TBA as Pepper, The bossiest orphan (12) Who likes to take control and is not very good friends with Annie.
TBA as Duffy, The oldest orphan (13) Who often hangs around with Pepper but is friends with everyone.
TBA as July, The quietest orphan (13) Who doesn't talk much but is mother-like to all the kids.
TBA as Tessie, The crybaby orphan (10) Who is known for line "Oh my goodness".
TBA as Kate, The shyest orphan (7) Who never really speaks but is friends with everyone.
Conan O'Brien as Louis Brandeis, Associate Justice of the U.S. Supreme Court, he is called upon to assist in Annie's adoption.
Rob Paulson as Bert Healy, a radio show host who agrees to broadcast Annie's search for her parents.
Grey DeLisle, Tara Strong and Nika Futterman as The Boylan Sisters, Singers on the Bert Healy Show who hope to be famous someday.
Dan Castellaneta as Lt. Ward, A policeman sent after Annie.
Jeffrey Tambor as Harold Ickes, Cabinet Member who sings "Tomorrow" with Annie and Warbucks.
Trivia
Community content is available under
CC-BY-SA
unless otherwise noted.