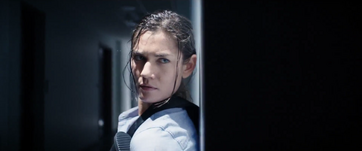 Andrea Donnell is a main character in the TV series, The Sullivans.
Biography
Born in Fresno, California in July 1991. Andrea is the youngest child and only daughter of current Chief of Investigations Burton Donnell & former cop Maggie Donnell. Her oldest brother Joseph is a hostage negotiator on Denver SWAT, her second-oldest brother Michael is a patrol sergeant and her third-oldest brother Connor is a K9 officer. She was born when her parents went to a family reunion in Fresno.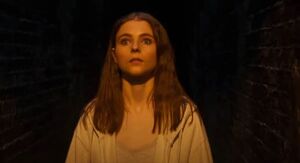 When she was 18, Andrea grew closer to her father's colleague Robert Evans after feeling overshadowed by her father and older brothers. The two had an affair, with Andrea under the impression that Evans was separated from his wife. Seven months in though, the relationship turned sour when she learned that Evans had reconciled with his wife two months prior but was still seeing her on the sly. When she confronted him and tried to break it off, he became abusive and threatened to scandalize her and her family. After five more months, Andrea took classes in Brazilian Jiu Jitsu, eventually becoming a black belt, and was able to fight Evans off during one of his periods of abuse and leave him. A month later, Andrea discovered that she was pregnant with Evans' child. She concealed her pregnancy and that Evans was the father from her family, and then traveled to Nebraska where she give birth to a baby girl and gave her up for adoption.
After graduating college in 2013, Andrea became hesitant to join the Denver Police Department, wanting to first set herself aside from her family. She instead went the Denver Sheriff Training Academy and worked in the Sheriff's Department as a deputy. After eight years, she decided she was ready to join her family.
Andrea graduated from the police academy and joined the force in 2021. She worked on patrol for six years until she passed the detective's exam. After which, she became a member of the Family Justice Unit in 2027.
Andrea was previously married to public defender Chris Garrett and the two have two daughters, Danielle, who is eight at the start of the series, and Piper, who is five at the start of the series. She and Chris divorced when Piper was a year old.
The Sullivans
Season 1
TBA
Season 2
Andrea plays a major role in sex trafficking case when former Texas Ranger Colton Renko was pursuing the ring who kidnapped his granddaughter. When she and the other FJU detectives interrupted his interrogation, Renko mistaken them for friends of the criminals and fought them in relative ease. Andrea was the first one to hit him and held her own at him for a bit until he knocked her down with one punch. Later, thanks to Renko's intel, she helped raided the hideout and they rescue several girls, including Renko's granddaughter. She also consoles with Hannah Wie over her situation with her sister. Then, Andrea reveals to Hannah that  revealing that she was in an abusive relationship herself when she was teenager. She explains that she got too close to someone with when she felt overshadowed by her father and older brothers, not seeing his true nature until she was so deep in the relationship. She regrets what happened to her, but she was scared to report him or tell her family about what happened because she was afraid that they might use their police powers to retaliate, and he threatened that if that happened, he'd do everything to ruining their careers, lives, and family name. Andrea admits that she struggled to find her way out for over a year until took classes in Brazilian Jiu Jitsu, eventually becoming a black belt, and was able to fight him off and leave him.
At her family's Christmas party, she reacts in horror when she come face to face with her dad's friend and former colleague Robert Evans but Burton got suspicious over her reaction. However, Andrea lie to her dad. More than a week later, Andrea finds herself caught in a case of police brutality involving Jackson's brothers Terrell and Peter and also her brother Mikey, who was supervisor of the officers responsible. Andrea defends her brother, which causes tension between herself and Terrell until their families sort out their issues and the FJU solves the case. A week later, she comes face to face with Evans again when his unit - Major Crimes - takes over the FJU and Denver Vice Unit's joint investigation of the bus shooting. A concerned Drake confronts Andrea about her connection with Evans. Andrea reveals their past to Drake without telling him the full truth and then they both decide to do their own investigation without Major Crimes knowing. However, the plan backfires when they have a run in and are almost killed by a group of hitmen until they are rescued by their colleagues, Pearce and Evans. Later, it is revealed during an argument between Andrea and Evans that the two has an relationship with each other when she was a 18 years old and he was a married man.
Weeks later, Andrea gets a distressing call from Mikey at work. Drake, Andrea, Richter and Holmes arrive at an apartment where they walks into Mikey covered in blood, and a naked African-American woman dead in the kitchen. As Andrea and Drake attempts to comfort Mikey, Evans and his MCS team turn up at the apartment and arrest Mikey for murder. Andrea attempts to get her ex-husband Chris to represent Mikey but Chris told Andrea that he will represent the victim's family. Andrea calls Katherine who gets her friend Defense Attorney Emily Thornton to represent Mikey. The FJU suffers a lots of setback in the case while the victim's family publicly threatens to ruin the entire Donnell family unless Mikey admits to the murder. Later, Andrea breaks down in the ladies' bathroom before Evans comforts her, attempts to sweet talking her. Andrea tells Evans that he doesn't care about helping Mikey, explaining that he wants her to be humiliated but Evans defeated himself before Evans kisses Andrea but she rejected him, telling him that he doesn't have any chance of winning her back.
Later, Andrea spends her evening in the cafe where she unknowingly comfort to a young waitress named Audrey over the situation. Andrea and Audrey talks about their personal life but Andrea left shocked when Audrey reveals herself as Evans' adopted daughter and she is only 19 years old. While describing about her adopted dad, Audrey tells Andrea that she sees her dad meeting up with a woman and overhears them talking about framing somebody. Andrea shows Audrey random photos of Mikey, his friends and her family before Audrey recognizes Evans' mystery woman and Mikey's colleague - Detective Sarah Howard in one of the photos. Andrea gives the location to Drake and the FJU before driving off, meeting up with her colleagues they gets involved in the shooting with Howard and her accomplices. Following a shootout, Drake and Andrea confront Howard in a standoff over framing Mikey. Howard confessed that she was in love with Mikey but, being a married man, he rejected her. Spurned, Howard paid the victim to drug Mikey's drink, and the other men to kill her and frame Mikey for the murder. As Andrea pushes for answers, Evans appears in the shadows and shoots Howard in the neck. Andrea attempts to save a wounded Howard who tells Andrea that it was Evans who suggested the entire scheme to her before dying in Andrea's arms.
Later, the FJU and Donnell family celebrated Mikey's exoneration and freedom while Andrea accepts Chris' apologies for not believing Mikey's innocence. Then, Andrea decided to visit Evans in his house where she confront him about the plan to set Mikey up. Evans strongly denies this, but his feelings change when Andrea mention Audrey's name in their conversation before questioning him about her age. Evans argues with Andrea about Audrey but he accidentally reveals that he didn't adopted his real child before whimpering on Andrea's ear. Horrified of the truth, Andrea slaps Evans and threatens to tell her family, but Evans threatens to destroy her career if she does before orders her to get out of his house. Andrea leaves the house in tears but they didn't know that Mary overheard the argument and recorded it.
Andrea struggles to force at work, leaving some of her colleagues worrying. Then, Evans visits Andrea at work, wanting to discuss about Audrey, but she refuses to hear it. As he leave, Evans warns Andrea about the consequences if the truth comes out, not knowing Holmes overheard the argument. Later, Jackson confront Andrea in the squad's bunk room after witnessing her odd behavior. Andrea comes clean to Jackson about her relationship with Evans when she was 18. When Jackson tries to comfort Andrea, she tells him that the situation is more complicated. Later, Andrea and Jackson comfort Hannah after her sister Lisa died in childbirth after being brutally beaten by her estranged, abusive husband Jason. After Jason is arrested for murder, Hannah talks to Jackson and Andrea about Lisa's death but then Andrea gets upset when Hannah describes how will Lisa's baby girl will never know her mother. Then, with Jackson standing by her side, Andrea went to Katherine's office where she tells Drake and Katherine the truth about what Evans did to her before revealing herself as Audrey's biological mother. She then finally reports Evans to Winder, telling him about her abuse and Audrey along with Drake and Holmes, who reveal Mary's video to the captain. Winder reacts in shock upon hearing three detective's confessions, and promises Andrea that Evans will pay for his crimes. Then, Andrea learns that Audrey has disappeared and wants to help find her despite Winder benching her due to her personal involvement in this, but Holmes vows to get her involved. She then gets the family together for a meeting at the station. When they arrive, Andrea tells her family about everything. Burton and Maggie are stunned and angered by the news and her brothers are shocked, but Mikey is especially left aghast and even accuses Andrea of protecting Evans, but she denies his accusations before reminding him that he would still be in prison if Audrey hadn't helped out. Burton send Mikey to help Andrea, Jackson and Terrell to find a missing Audrey.
Personality
Coming from a prominent police family, Andrea is fiercely loyal to law enforcement. Having been the youngest child and only daughter of four children, she often felt overshadowed by her father and three brothers while growing up, she has often had to prove herself to be just as capable as men are in investigating and taking down suspects. This played a major part in her decision to put off joining the police and to work in the sheriff's office for a time instead. Being a black belt in Brazilian Jiu Jitsu, Andrea is known to be tough and can handle any situation. She is also emphatic towards victims of terrible crimes, especially children since she herself has two daughters. As a single mother, she is doing her best to raise Danielle and Piper to be independent women.
Relationships
Robert Evans (ex-lover)
Audrey Evans (daughter with Robert)
Chris Garrett (ex-husband)
Danielle Garrett (daughter with Chris)
Piper Garrett (daughter with Chris)
Burton Donnell (father)
Maggie Donnell (mother)
Joseph Donnell (oldest brother)
Michael Donnell (older brother)
Connor Donnell (older brother)
Kenneth Donnell (nephew, by Joseph)
Jodie Donnell (niece, by Joseph)
Diana Donnell (niece, by Michael)
Michael Donnell Jr. (nephew, by Michael)
Jenny Donnell (niece, by Michael)
Parker Donnell (nephew, by Connor)
David and Randy Donnell (twin nephews, by Connor)
Holly Donnell (niece, by Connor)
Trivia
Service weapon: Beretta Cougar 8000F
An episode of The Sullivans season 2 mentions her birthdate as July 21, 1991.
Community content is available under
CC-BY-SA
unless otherwise noted.