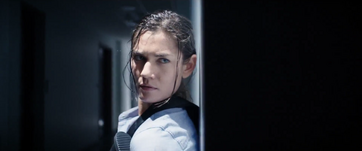 Andrea Donnell is a main character in the TV series, The Sullivans.
Biography
Born in Fresno, California in July 1991, Andrea is the youngest child and only daughter of current Chief of Investigations Burton Donnell & former cop Maggie Donnell. Her oldest brother Joseph is a hostage negotiator on Denver SWAT; her second-oldest brother Michael is a patrol sergeant and her third-oldest brother Connor is a K9 officer. She was born when her parents went to a family reunion in Fresno.
After graduating college in 2013, Andrea became hesitant to join the Denver Police Department, wanting to first set herself aside from her family. She instead went the Denver Sheriff Training Academy and worked in the Sheriff's Department as a deputy. After eight years, she decided she was ready to join her family.
Andrea graduated from the police academy and joined the force in 2021. She worked on patrol for six years until she passed the detective's exam. After which, she became a member of the Family Justice Unit in 2027.
Andrea was previously married to public defender Chris Garrett and the two have two daughters, Danielle, who is seven at the start of the series, and Piper, who is five at the start of the series. She and Chris divorced when Piper was a year old.
The Sullivans
Season 1
TBA
Personality
Coming from a prominent police family, Andrea is fiercely loyal to law enforcement. Having been the youngest child and only daughter of four children, she often felt overshadowed by her father & three brothers while growing up, and has often had to prove herself to be just as capable as men are in investigating & taking down suspects. This played a major part in her decision to put off joining the police and to work in the sheriff's office for a time instead. Being a black belt in Brazilian Jiu Jitsu, Andrea is known to be tough and can handle any situation. She is also emphatic towards victims of terrible crimes, especially children since she herself has two daughters. As a single mother, she is doing her best to raise Danielle and Piper to be independent women.
Relationships
Chris Garrett (ex-husband)
Danielle Garrett (daughter)
Piper Garrett (daughter)
Burton Donnell (father)
Maggie Donnell (mother)
Joseph Donnell (oldest brother)
Michael Donnell (older brother)
Connor Donnell (older brother)
Multiple nieces and nephews
Trivia
Service weapon: Beretta Cougar 8000F
Community content is available under
CC-BY-SA
unless otherwise noted.