| | |
| --- | --- |
| | The owner of this page is GabeHatesA&WRootBeer. According to policy, no other user, with the exception of admins, may edit this page without the owner's permission. If they do, they will receive an automatic 3 month block. If you are the Owner, and someone edits your page, alert Chris6d immediately. |
Among Us: The Movie (or simply Among Us as seen in the Title Card) is a 2022 Science fiction/Horror slasher film, it is based off the popular video game Among Us, it was made by Warner Bros. Animation, and was theatrically released on May 1st, 2022, it was then released on HBO Max on June 26th, 2022, and released on DVD and Blu-ray on September 25th, 2022.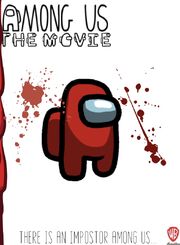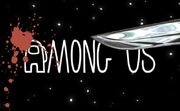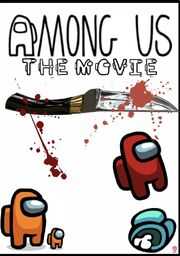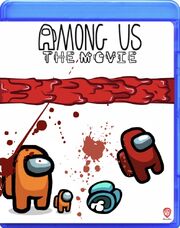 Plot
The Crewmates are a race of alien species stranded in space. They try to discover other planets they can live on, and study them. Then they find the planet: Polus, a place that looks very safe for the crewmates, with snow, a tree for oxygen, an office, and even a mini arcade with an asteroid shooter. Then a Crewmate (red), gets infected by a strange infection spreading around Polus. He then kills Pink. He then opens his Extra Terrestrial like mouth, and stabs Cyan with a knife, then Pink's body is reported. They then skip their vote, then Red, scared inside, does a light sabotage. Everyone becomes scared, and goes to Electrical, and fixes the lights, then Red kills Brown with a Gun. Then Lime finds out that Red is the Impostor, and runs to the emergency button in fear, Red chasing him in the meantime, but Red didn't have enough time, and vote him out, then they find a New ship, and a tower far away. They then go into the ship, an Airship, and head to the tower, Mira HeadQuarters. Or better known as Mira HQ.
Cast
Billy West as Red, a clever and blood thirsty impostor who was infected.
Jeff Bergman as Cyan, a fat and lazy crewmate that doesn't do his tasks.
Jim Cummings as Blue, a smart and intelligent crewmate who does his tasks, and has a large grudge against Cyan.
Kari Wahlgren as Pink, a crewmate who is very sexual and is always looking for love.
Tara Strong as Yellow, a usually cranky crewmate who assaults people when she gets interrupted.
Tom Kenny as Green, an energetic crewmate who does tasks very quickly.
Phil LaMarr as Orange, a loving and caring dad who takes care of his child.
Jess Harrell as Purple, a dumb crewmate who thinks of unreasonable things.
Matthew Lillard as White, a crewmate who is all about explaining, he is usually called "Explainiac".
Kevin Michael Richardson as Black, a crewmate who always goes for oxygen, so the others can survive.
Scott Menville as Brown, a blind crewmate who uses a stick to move around.
Bruce Timm as Lime, an anxious crewmate, and the one who found out Red was the Impostor.
Frank Welker as Banana, a crewmate who is always in need of help doing tasks, as he gets very confused with them.
Chris Pratt as Maroon, a very overconfident and rude crewmate, who always thinks he is better than anyone, he has been killed multiple times.
Mindy Cohn as Coral, a crewmate who does not believe the crewmates when they say there is an Impostor, she was the first one to get killed.
Dee Bradley Baker as Tan, a mixed crewmate who attacks anyone who offends people, but when he gets very mad, he starts to intimidate the crewmates.
Nancy Cartwright as Rose, a crewmate who is very personal with others, and slacks off when she is mad of sad.
Bill Marray as Gray, a crewmate who escapes an Impostor last second, and is usually very gullible.
Samuel Vincent as Olive, a crewmate who was long dead, and is a usually depressed crewmate, and even left Polus and returned multiple times.
Mark Hamill as Fortegreen, another long dead crewmate, who is usually happy go lucky crewmate who always tries to calm down Olive.
Production
While Innersloth were testing the prototype of Among Us, in 2017, Warner Bros. Animation found out about the prototype and made a script for an Among Us movie. In 2019, after the Polus map released, Warner Bros. Animation announced that production on Among Us The Movie: Crewmates has started. They also announced it would be Rated R. On November 9th, 2020, they revealed the first teaser of the film, simply with the title Among Us. They announced that it had a July 5th, 2021 release date. On March 11th, 2021. They announced that animation on the film had wrapped. And it was delayed to May 1st, 2022. And on November 14th, 2021. The teaser poster was released. And people got their first look at the film, the trailer was released on February 3rd, 2022. And the film was released on May 1st, 2022. And the title was also changed to Among Us: The Movie.
Release
Among Us: The Movie was originally scheduled for a July 5th, 2021 release, but was delayed to May 1st, 2022. It was released on HBO Max on June 26th, 2022, and aired on HBO on August 6th, 2022, it was then released on Blue-Ray and DVD on September 25th, 2022.
Critical reception
Despite positive reviews, the film was a Box office bomb, only grossing $19 million at the box office. Rotten Tomatoes gave the film a 78% of positive reviews, the site's critic consensus reads "Among Us: The Movie is well animated, and its accuracy to the game is almost prefect."
Metacritic gives the film a 80 out of 100, indicating "Universal acclaim".
Posters