Panthera leo llanuras
A subspecies of lion present in North America, it is considered an apex predator and is one of the largest felines in North America.
Biology
American lions have thick fur, that helps them keep warm in winter. They also have a larger, but thinner mane, than the African lion(As lions will grow larger manes in captivity if they are in a colder place). They stand about four and a half feet tall and can weigh about two-hundred and forty pounds. They are slightly browner in color, than it's African counterpart.
Evolution
When humans left, after a few days many animals from zoos and safari parks, became neglected. Most animals died, due to their exhibits security, but animals that were kept in with electric fences and were large, managed to knock down their prisons or have their exhibits destroyed. Lions managed to either climb fences or have them knocked down by larger animals. After escape, they survived by breaking into houses and scavenging spoilt processed meat, hunting other zoo animals or wild or feral animals, like feral dogs, white-tailed deer, feral horses, etc. They, unlike elephants and ostriches easily managed to survive the winter. The lions shortly after, migrated to open fields, leaving behind ghost neighborhoods, towns and cities.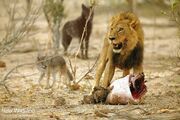 Behavior, Reproduction, Diet
Lions spend much of their time resting and are inactive for about 20 hours per day. Although lions can be active at any time, their activity generally peaks after dusk with a period of socializing, grooming, and defecating. Intermittent bursts of activity follow through the night hours until dawn, when hunting most often takes place. They spend an average of two hours a day walking and 50 minutes eating. Lions are the most socially inclined of all wild felids, most of which remain quite solitary in nature. The lion is a predatory carnivore with two types of social organization. Some lions are residents, living in groups centering around related lionesses, called prides. Females form the stable social unit in a pride and do not tolerate outside females; membership only changes with the births and deaths of lionesses, although some females do leave and become nomadic. The pride usually consists of five or six females, their cubs of both sexes, and one or two males (known as a coalition if more than one) who mate with the adult females (although extremely large prides, consisting of up to 30 individuals, have been observed). The number of adult males in a coalition is usually two, but may increase to four and decrease again over time. Male cubs are excluded from their maternal pride when they reach maturity at around 2–3 years of age. The second organizational behavior is labeled nomads, who range widely and move about sporadically, either singularly or in pairs. Pairs are more frequent among related males who have been excluded from their birth pride. Note that a lion may switch lifestyles; nomads may become residents and vice versa. Males, as a rule, live at least some portion of their lives as nomads and some are never able to join another pride. A female who becomes a nomad has much greater difficulty joining a new pride, as the females in a pride are related, and they reject most attempts by an unrelated female to join their family group. The area a pride occupies is called a pride area, whereas that by a nomad is a range. The males associated with a pride tend to stay on the fringes, patrolling their territory. Why sociality – the most pronounced in any cat species – has developed in lionesses is the subject of much debate. Increased hunting success appears an obvious reason, but this is less than sure upon examination: coordinated hunting does allow for more successful predation, but also ensures that non-hunting members reduce per capita calorific intake, however, some take a role raising cubs, who may be left alone for extended periods of time. Members of the pride regularly tend to play the same role in hunts and hone their skills. The health of the hunters is the primary need for the survival of the pride and they are the first to consume the prey at the site it is taken. Other benefits include possible kin selection (better to share food with a related lion than with a stranger), protection of the young, maintenance of territory, and individual insurance against injury and hunger. Lioness do most of the hunting for their pride. They are more effective hunters as they are smaller, swifter and more agile than the males, and unencumbered by the heavy and conspicuous mane, which causes overheating during summer. They act as a coordinated group with members who perform the same role consistently in order to stalk and bring down the prey successfully. Smaller prey is eaten at the location of the hunt, thereby being shared among the hunters; when the kill is larger it often is dragged to the pride area. There is more sharing of larger kills, although pride members often behave aggressively toward each other as each tries to consume as much food as possible. If near the conclusion of the hunt, males have a tendency to dominate the kill once the lionesses have succeeded. They are more likely to share this with the cubs than with the lionesses, but males rarely share food they have killed by themselves. Both males and females can defend the pride against intruders, but the male lion is better-suited for this purpose due to its stockier, more powerful build. Some individuals consistently lead the defense against intruders, while others lag behind. Lions tend to assume specific roles in the pride. Those lagging behind may provide other valuable services to the group. An alternative hypothesis is that there is some reward associated with being a leader who fends off intruders and the rank of lionesses in the pride is reflected in these responses. The male or males associated with the pride must defend their relationship to the pride from outside males who attempt to take over their relationship with the pride. While a lioness such as this one has very sharp teeth, prey is usually killed by strangulation. The lioness is the one who does the hunting for the pride. The male lion associated with the pride usually stays and watches its young while waiting for the lionesses to return from the hunt. Typically, several lionesses work together and encircle the herd from different points. Once they have closed with a herd, they usually target the closest prey. The attack is short and powerful; they attempt to catch the victim with a fast rush and final leap. The prey usually is killed by strangulation. The prey also may be killed by the lion enclosing the animal's mouth and nostrils in its jaws. Lions usually hunt in coordinated groups and stalk their chosen prey. However, they are not particularly known for their stamina. Thus, they only run fast in short bursts, and need to be close to their prey before starting the attack. They take advantage of factors that reduce visibility; many kills take place near some form of cover or at night. They sneak up to the victim until they reach a distance of approximately 30 meters or less. Their main diet consists of horses, mule deer, white-tailed deer, bison, mammoth and occasionally will consume salmon from the Colorado river.
Community content is available under
CC-BY-SA
unless otherwise noted.