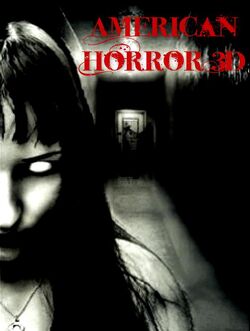 American Horror 3D is an 2013 American horror film written by Kevin Williamson and directed by Alexandre Aja.It will be released on Halloween 2013. American Horror 3D follows a group of college students who go on an old mansion and is hunted by an spirit.
This Film stars Amanda Crew, Jessie Pavelka, Brant Daughtery, Katy Perry (Credited as her birth name) and Jake Johnson.
Plot
Ten College Students, Jessie Hudson, her boyfriend Henry Lockhart, her bestfriend Monique Doyle, Matthew Harrison, Philip Warner, Eva Byers, J.J. Harrold, Harrold Miller, T.J. Brooks and Charles Collins decided to go on an old mansion and gets hunted an evil spirit on the house.
Cast
Jessie Hudson - Amanda Crew
Matthew Harrison - Jessie Pavelka
Henry Lockhart - Brant Daughtery
Monique Doyle - Katheryn Elizabeth Hudson
Philip Warner - Israel Cassol
Eva Byers - Sara Ash Davis
J.J. Harrold - Kelly Brook
Harrold Miller - Randy Harrison
T.J. Brooks - Jensen Ackles
Charles Collins - Chuck Hittinger
Emily Morgan - Daveigh Chase
Sherriff Dymkoski - Jake Johnson
Ms. Kelli Sullivan - Anne Marie DeLuise
Lead Sherriff - Jerry Wasserman
Sherriff McHenry - Oliver Hudson
Travis - Joe Anderson
Shelby - Chelan Simmons
Billy - Sebastian Stan
Nurse - Olivia Wilde
Second Nurse - Eva Mendes
Paramedic - Michael Fassbender
Summary
The Film opens with Jessie Hudson (Amanda Crew) who was walking on a park and caught her boyfriend Henry Lockhart (Brant Daughtery) with another girl.
Jessie tells Henry they are over were Jessie's bestfriend Monique Doyle (Katy Perry) came.
Henry leaves and Jessie starts to blame herself, Monique comforts her.
Meanwhile, Lesbian Lipstick Couples J.J. Harrold (Kelly Brook) and Eva Byers (Sara Ash Davis) where dating on a restaurant and J.J. received a call from Philip Warner (Israel Cassol).
Philip tells J.J. that they need to met up on a park, they will go on a horror house, Eva gets the phone.
Eva tells Philip that they will met on the old mansion for a real thrill they wanted to experience.
At the class, Matthew Harrison (Jessie Pavelka), Harrold Miller (Randy Harrison), T.J. Brooks (Jensen Ackles) and Charles Collins (Chuck Hittinger) were chatting during the class.
T.J. threw an paper on their teacher's (Anne Marie DeLouise) head which leads them to detention.
Eva seduces T.J. and tells them to escape and this convince them to join them which he accepts.
Eva also invites Jessie, Henry and Monique with them, J.J. and Philip arrived the house.
Eva, Matthew, Harrold, T.J. and Charles arrived the same time as Jessie, Monique and Henry arrived.
They All go inside the House and the door was slammed and locked by someone.
They all look at the door and the items inside the house started to fell and shake.
Release
The film was released in the United States on November 19, 2013. The film was released the following weekend in countries such as Australia, Canada, France, Germany and Philippines. The Film is due release in October in European countries such as the United Kingdom and Spain.
Quotes
Henry abandons Jessie and Monique comforts her.
Jessie caught Henry with another girl.
Jessie - "You Bitch, How will you do this to me?"
Henry - "Let me explain."
Jessie - "Don't even try to explain, We are over."
Henry - "Okay fine, we are over."

J.J. and Eva are dating and gets a call from Philip.
J.J. - "So, Eva do you want to"
J.J.'s phone rings
J.J. - "What?"
Philip - "Lets go met on a horror house on the new carnival?"
Deaths
Emily Morgan - Crushed by an falling rock.
Monique Doyle -
Philip Warner -
Harrold Miller -
Henry Lockhart -
Charles Collins -
Eva Byers -
J.J. Holbrook -
T.J. Brooks -
Ms. Kelli Sullivan -
Matthew Harrison -
Lead Sherriff -
Sherriff McHenry -