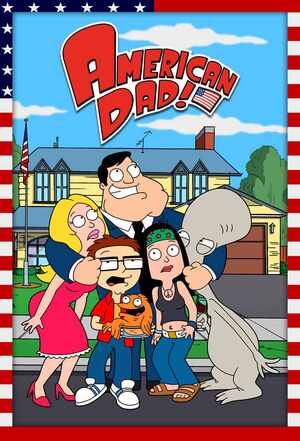 American Dad is a Fake fan fiction 2016 comedy film and is based on the TV show of the same name. It is directed, produced and written by Seth MacFarlane
Summary
When Stan Smith is 15-years-old, he has an affair with his teacher, who is really an alien. When he discovers her species, he adopts her baby son Roger.
30 years later, he works for the C.I.A. but doesn't tell them about Roger. Roger decides to work as a cop but a dirty cop tries to make things worst. Roger also gets a visit from his evil twin brother.
Cast
Jim Carrey

as Stan Smith

Mellisa Joan Hart

as Francine Smith

Isabelle Fuhrman

as Hayley Smith

Aidan Miner

as Steve Smith

Seth Rogen

as Roger (voice) - Stan's adopted alien son.

Bobby Cannavale

as Detective Chaz Migliaccio - The Hidden Main Antagonist of the film and Roger's former corrupt cop boss.

Seth Macfarlane

as Ricky Spanish - The Secondary Antagonist of the film and Roger's older twin brother.

Dee Bradley Baker

as Klaus (voice)

Davis Cleveland

as Snot

Forrest Wheeler

as Toshi Yoshida

Sean Ryan Fox

as Barry
Kristen Li as Akiko Yoshida

Lance Lim

as Vince Chung

Bailee Madison

as Lisa Silver

Dee Bradley Baker

as Hideki Yoshida

Ming-Na Wen

as Hiko Yoshida

Patrick Stewart

as Avery Bullock

David DeLuise

as Dick Reynolds

Bill Hader

as Jackson

Chris Tallman

as Sanders
TBA as Debbie Hyman
Main Cast Gallery
Notes
Dee Bradley Baker and Patrick Stewart reprises their roles from the series.
Trivia
The film is rated R for strong sex references, drug references, violence and language.
15 certificate
It is distributed by 20th Century Fox and Columbia Pictures.
needs more roanchy Humor and more Sexual Refereances  an Unrated Blu-ray version to!
this big cast will defently will work!
this will be the biggest Seth Macfarlane Comedy Action film ever!
the fans will love it
keep it an R Rating please

target aduience