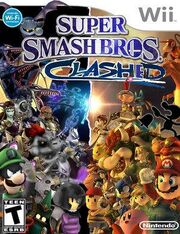 All Star Melee is a video game that includes Wipeout contestants. It's much like SSBM (Super Smash Bros. Melee), but a different thing called songs instead of items. But in Party Mode, it's much like Mario Party (series). You play the boards and get the Star music from Mario Party 7.
List of Playable Characters
* Unlockable characters. ** means a series with Wipeout contestants.
Mario series
Mario
Luigi*
Peach
Daisy
Yoshi
Birdo*
Diddy Kong
Bowser
Bowser Jr.*
Wario
Waluigi*
Donkey Kong
Boo*
Dry Bones*
Sherry*
Toad
Toadette
Toadsworth
Rosalina
King Boo
Blooper
Hammer Bro.
Koopa Troopa
Pianta
Noki
Luma
Toad Brigade
Koopa Paratroopa
High School Musical series
Sherry Reinhart
Krystal Howard
Crystal Grierson
Abigail Santos
Andrea Muhlbach*
Amber Pauls*
Alanna Baker
Adrianna Szarek
Tanya Doyle
Tanya Carter
Jacalyn Fenske
Andrea Maikawa
Jennifer Peter*
Carrie Kiker*
Andrea Mansoor
Melia Quiray
Kim Dockery
Caroline Lee*
Caroline Dalpe*
Kim Utterson
Chelsea Tailfeathers*
Taryn Johnston*
Andrea Black*
Bree Bailey
Zelda series
Link
Zelda/Sheik
Ganondorf*
Toon Link*
Toon Zelda*
Toon Sheik
Metroid series
Kid Icarus series
Ice Climber series
Kirby series
Kirby
King Dedede
Meta Knight
Star Fox series
Fox
Falco*
Wolf*
Krystal*
Pokemon series
Pikachu
Pokemon Trainer
Lucario*
Jigglypuff*
Fire Emblem series
Red Wildcats series 2.0**
Sheena Hunt
Brittany McLean
April Robles
Shane Johnson
Kristi Rudmik
Nicole Bethge
Kali Bonogofski
Chris/Andrea Nicholson
Holly Cote
Shannon Elmer
Tracey Thomas
Red Wildcats 3.0** series
Kiley Speakman
Ariel Tweto
Yana Zhernova
Deborah Blackwell
Kristen Egizi
Janica Polmanteer
Cindy McCormick
Metal Gear series
Sonic series
Sonic
Tails
Knuckles
Amy Rose
Shadow
Rouge the Bat
Blaze
Other Nintendo
Mr. Game and Watch
Ness
Lucas
The Next Star series
April Llave
Shania Fillmore
Melissa Storwick
Penguins of Madagascar series
Skipper
Rico
Kowalski
Private
SpongeBob series
Mrs. Puff
SpongeBob
Patrick Star
Sandy Cheeks
Squidward
Plankton
Mr. Krabs
Pearl
Karen
Gary
Man Ray
iCarly series
Carly
Sam
Spencer
Freddie
Fairly Odd Parents series
Timmy Turner
Vicky
Cosmo
Wanda
Others
Splatalot series
Final Fantasy series
Chocobo
White Mage
Black Mage
Moogle
Ninja
Victorious series
Tori Vega
Victoria Justice
Auditions for Characters
Mario
Luigi
Peach
Daisy
Yoshi
Birdo
Bowser
Wario
Waluigi
Rosalina
Trivia
Episodes