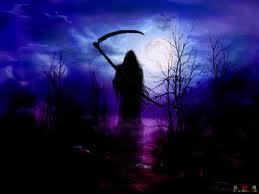 Alice In Murderland
is a horror remake starring Trioan Bellesaro, Lucy Hale, Brianna Evigan, Amand Seyfried, Janel Parrish, Isabelle Furhman, Rummer Wills, Emma Stone, Nikki Reed, Aly Michalka, Shay Mitchell, Margo Harshman, Jamie Chung, Leah Pipes, Megan Fox, Ashley Benson and Julianne Moore
Plot
A woman named Ann Lewis arrives at The Glass Mansion with her baby Alice May. Charlene Culver shows Ann around and tells her that there is a suprsise for her in the basement. Ann leaves Alice in a high chair in the kitchen while Charlene goes outside to smoke. Ann goes into the basement and looks for her suprise and can't find none and when she is about to leave a person in the grim reapper outffit hacks Ann to death with the axe.
The police found Alice still in her highchair and Charlene Culver missing and Alice's Dad went missing police figured that Charlene Culver did it then ran away with Ike Lewis. Alice was then sent to live with Ann's sister Lena Lewis and ten years later Alice who goes by Miriam now lives in a soroity with Lena as the housemother. Today is Alice's Birthday and she and her soroity sisiters are having a pool party. Her bestfriend Tiff who is the presidant and her other bestfriend Ruth, Rain, Chrissy, Holly, Jasmine, Danielle, Mary, Caroline, Mary Beth
Cast
Trioan Bellesaro as Alice Lewis
Lucy Hale as Tiff
Brianna Evigan as Ruth
Amanda Seyfried as Chrissy
Janel Parrish as Danielle
Rummer Wills as Caroline
Terra Vnessa as Mary Beth
Emma Stone as TBA
Nikki Reed as TBA
Aly Michalka as Rain Johansaberg
Shay Mitchell as Holly
Leah Pipes as Jasmine
Margo Harshman as Dee
Megan Fox as TBA
Julianne Moore as Lena Lewis
Ashley Benson as Ann Lewis
Vera Farmiga as Charlenne Glass
Suvivors
Deaths
David-stabbed wtha machete
Chrissy's boyfriend- stabbed to death
Chrissy's boyfriends friend-stabbed to death
Chrissy's boyfriend's friend-stabbed to detah
Llith's boyfriend-stabbed in the head
Mary Beth- Stabbed to death
Caroline-spine snapped in half
Danielle-stabbed in the heart
Ester-stabbed in the head
Community content is available under
CC-BY-SA
unless otherwise noted.