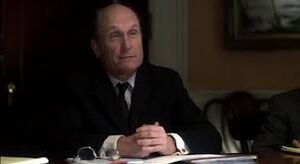 Alan Grimes is a main character in the American crime drama, Law & Order: New Orleans.
Biography & Personality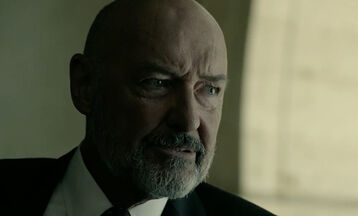 Born in Alexandria, Louisiana in November 1934, Alan Grimes was the oldest of two sons. A graduate of Columbia University, he served as an ADA for the New Orleans office for over 40 years. He was elected D.A. in 2006 and has held the position ever since. He has since had a reputation as a stern, but somewhat humourous, and often caring D.A. when the occasion calls for it.
He has been married to a woman named Nancy for 52 years and has four children and 8 grandchildren.
He is shown as two-sided: when the circumstances really call for it he will not hesistate to impose that the criminals get the harshest punishment, such as when career criminal Travis Cooper was put on trial, took Detective Dallas Parker's family and his partner, Marcus Queen, hostage, and caused the deaths of four people in the process, Grimes personally and successfully pushed for Cooper to get the death penalty.
But he has shown a lenient side to him, as when Jasmine Gutierrez, Max Browning's girlfriend, did the same, but after learning about her tragic past, decided to allow a plea deal for a 15-year jail sentence rather than the maximum sentence.
In the third season preimere ("Afterlife"), Grimes was shot by the grandnephew of a criminal he had convicted back in the 1980s and was hospitalized for most of the season. During this time, a friend of his, Russell Washington assumed his duties until his eventual return ("London: Part 5").
At the end of the fourth season, Grimes retired from the D.A.'s office, leaving Washington to take his place.
Relationships
Trivia
Community content is available under
CC-BY-SA
unless otherwise noted.