| | |
| --- | --- |
| | The owner of this page is MisterLoki. According to policy, no other user, with the exception of admins, may edit this page without the owner's permission. If they do, they will receive an automatic 3 month block. If you are the Owner, and someone edits your page, alert Chris6d immediately. |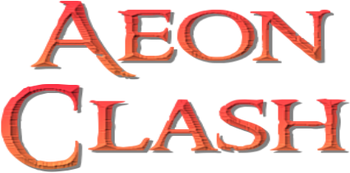 Aeon Clash is a remake of Aeon Champions and like its predecessor is a 5 vs. 5 Battle Arena game concept by Mister Loki where all players pick 3 out of the many available mythological, historical and fictional (public domain) Champions and battle it out. If the player picks a Hybrid Champion it fills up 2 of the 3 slots. The game idea is heavily inspired by the Fate Series and MOBA Games like Smite. Each Champion has a Class Passive, 2 Default Skills and 1 Champion Skill that is unique to them. Once players enter a game mode match they can purchase Items with the Gold gained as the match progresses. Players can purchase up to 4 items in a single match and upgrade them up to 4 times.
Champion List
There are currently 708 Champions in Aeon Clash.
Europe
Asia
America
Africa
Other
Champion Reskins
Battlegrounds
Aeon Champions features 3 Objective modes, each with 15 Battlegrounds.
Capture Point Battlegrounds
Alhambra, Spain
Asgard, ???
Camelot, Great Britain
El Dorado, Colombia
Garden of Eden, ???
Great Wall of China, China
Hanging Gardens of Babylon, Babylon
Jerusalem, Israel
Kyoto Imperial Palace, Japan
Lemuria, ???
Library of Alexandria, Egypt
Themiscyra, Greece
Troy, Turkey
Stonehenge, Great Britain
Xibalba, ???
King of the Hill Battlegrounds
Ali Baba's Treasury, Arabia
Atlantis, Greece
Chichen Itza, Mexico
Constantinople, Turkey
Easter Island, Chile
Great Pyramid of Giza, Egypt
Jötunheimr, ???
Laputa, ???
London, Great Britain
Mount Olympus, Greece
Santa's Workshop, North Pole
Scholomance, Romania
Sherwood Forest, Great Britain
Temple of Heaven, China
Tower of Babel, Shinar
Score Battlegrounds
Angkor Wat, Cambodia
Bran Castle, Romania
Christ the Redeemer, Brazil
Davy Jones' Locker, ???
Golden Gate Bridge, North America
Great Sphinx of Giza, Egypt
Meiji Shrine, Japan
Naglfar, ???
Olympia, Greece
Pandæmonium, ???
Paris, France
Petra, Jordan
Taj Mahal, India
The Colosseum, Italy
Wild West, North America
Notes
On my personal Wiki all of the Champions have been made using the tools available in Heroforge