| | |
| --- | --- |
| | The owner of this page is Username687. According to policy, no other user, with the exception of admins, may edit this page without the owner's permission. If they do, they will receive an automatic 3 month block. If you are the Owner, and someone edits your page, alert Chris6d immediately. |
| | |
| --- | --- |
| | This article only exists in the NBC Nordic universe, where the youth channel Kanal Prince Bih (formerly known as NBC 2, The Art Entertainment Network, and Tattoo) exists in the universe. |

A Pearl (Swedish: En pärla; Danish: En perle) is a Swedish-Danish animated sitcom created by Rasmus Magnusson and Fardhe Gustafson for Kanal Prince Bih in Sweden. It is second adult animated series to be produced in Sweden, besides with The Week of Parody (Parodiveckan).
Premise
Characters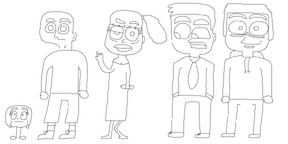 The show is about five main characters Pearl, Kalle Friberg, Klara Malmgren, Harald Mattisson, and Dexter Houghton that live in a small fictional town in Sweden called Enstuna, which fictional city was popular for its bars and restaurants.
Pearl (not to be confused with that character from Steven Universe) is the only character that is an object, and she is the main character of this show. Kalle Friberg is a white supremacist and he supports the neo-Nazis. Klara Malmgren is an alcoholic prostitute, and she goes to mostly bar to drink more alcohol. Harald Mattisson is a businessman that owns one unnamed trading company, and Dexter Houghton is a musician that loves to play guitar and he's a very chill guy. He is also the only dark-skinned character that is the main character.
International broadcasts
Sweden
Denmark
Norway
Finland
Russia
Latin America