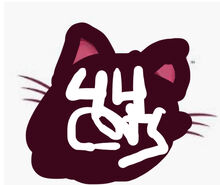 44 Cats is a 1995 American live-action/animated film, produced by Davidovich Films, Matthew Mouse Productions and Joe Brian Productions and distributed by Pentagon Pictures.
Plot
4 Homeless Cats named Lampo, Milady, Pilou, and Meatball get taken in by Mike Blundell. They later form a band called The Buffycats in Mike's Garage.
Characters
Voice Cast:
Songs
The Evil Weevil Kitten - The Buffycats
Noodles - The Buffycats
What I Really Hate - Urusla
All Around the Town - The Boom-Boom Steppers
A Tasty Paella - Piperita
Steady and Stealth - Meatball and Pilou
Going Home - The Buffycats
44 Cats - The Buffycats
44 Cats Starts with 1 (End Credits) - Chorys
Sequel and TV Series
In the Direct to DVD Sequel from 2002 and TV Series that ran from 2011 - 2016, Cam Clarke takes over as the full-fledged voice for Lampo, due to not affording Matthew Broderick. And Milady and Pilou's Voiced are completely replaced, Milady being Voiced by Newcomer Suzy Myers, and Pilou being Voiced by Kath Soucie. but Charles Fleisher, Cree Summer, Martin Short, Danny Mann, Gail Matthius, Rob Paulsen, and John Kassir were there for the whole franchise, and Mary Kay Bergman was replaced by TBA for the voice of Piperita. But June Foray could only voice Granny Pina again in 45 Cats, She was Voiced by Candi Milo in 44 Cats: Buffycats on Tour.
Live Action Film
In December 2019, A Live Action 44 Cats Remake will release. With the voices of TBA as Lampo, TBA as Milady, TBA as Pilou, TBA as Meatball, TBA as Urusla, TBA as Junder, TBA as A Villain named Blister Who wasn't in the original film, TBA as Fancy Dancy, Cree Summer reprised her Role as Lola, TBA as Jose, Martin Short reprising his role as Cosmo, TBA as Igor, TBA as Piperita, TBA as Gaby, Rob Paulson reprises his role as Gas, and TBA as Neko. And the Live Action portrayers being a TBA as Mike Blundell, TBA as Winston, TBA as Granny Pina, And TBA as The Catcatcher.
The Buffycats
Trivia
People shipped Pilou with Meatball during the first film, but when Terry came along in 45 Cats, the ship broke.
The Song "44 Cats" from the film is Only One Minute Long in the Film, But there is a full version in the soundtrack.
Community content is available under
CC-BY-SA
unless otherwise noted.