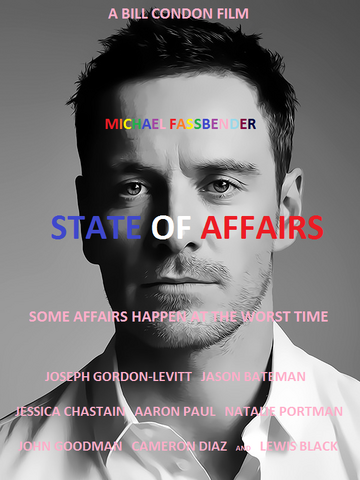 State of Affairs is an American political drama film directed by Bill Condon and written and produced by Drew Gars. It stars Michael Fassbender, Joseph Gordon-Levitt, Jason Bateman, Jessica Chastain, Natalie Portman, Aaron Paul, John Goodman, Cameron Diaz and Lewis Black. It is the fourth film in Gars' I'm Not Ashamed Universe series and the first in the series to not feature Emma Watson as Millie Chamberlain.
Plot
Attorney General Michael Ward (Fassbender) is a Demoractic Nominee running for President of the United States, competing with rival nominee and oil tycoon Norman Snow (Goodman), and is in engaged to egalitarian Maggie Winslow (Portman), but with all in his life, he can't handle the pressure. One day, he has a one night stand with a gay man (Gordon-Levitt) who is in an abusive relationship and he continues to have an affair with him, but he must be careful with his secret love life, fearing that his political enemies and his fiancée will discover his secret.
Cast
Michael Fassbender as Michael Ward, the U.S. Attorney General and a presidential candidate for the Democratic Party.
Joseph Gordon-Levitt as Max Isaacs, a gay man who Michael has an affair with.
Jason Bateman as Grant Thurino, Michael's progressive campaign manager who is very serious when working with Ward.
Jessica Chastain as Audrey Watts, Michael's junior campaign manager.
Natalie Portman as Maggie Winslow, an egalitarian and Michael's kindhearted and good-natured fiancee.
Aaron Paul as Erick Rawlins, a tattoo artist and Max's abusive boyfriend. He serves as the main antagonist of the film.
John Goodman as Norman Snow, the CEO of Snowland Oils Corporation and a presidential candidate for the Republican Party. He is a parody of Donald Trump.
Cameron Diaz as Ciarra Rawleigh, Snow's extremely right-wing campaign manager. She is a parody of Kellyanne Conway.
Lewis Black as Lester Hallman, the conservative host of Hallman Talk and a controversial political commentator.
Mykelti Williamson as Pete Rifkin, Michael's head of security.
Cynthia Addai-Robinson as Sally Costello, the national spokesperson for the Norman Snow presidential campaign. She is a parody of Katrina Pierson.
Paul Ben-Victor as TBA, a private detective hired by Grant to spy on Michael.
Jill Hennessy as Bree Norton, an environmentalist and a presidential candidate for the U.S. Green Party.
Ray Wise as Clark Juddson, a U.S. Senator for Florida and a presidential candidate for the Libertarian Party.
Bar Paly as Antonina Snow, a Russian model and Snow's young wife.
TBA as TBA,
TBA as TBA,
TBA as TBA,
TBA as TBA,
TBA as TBA,
TBA as TBA,
Cameos
Trivia
113 minutes long.
The film is rated R for some sexual/nudity, language throughout and brutal violence.
It will distributed and co-produced by Focus Features while being produced by Working Title Films.
Character Gallery
Community content is available under
CC-BY-SA
unless otherwise noted.